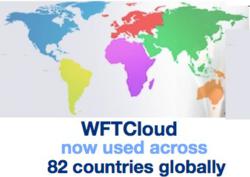 Princeton, NJ (PRWEB) April 16, 2012
Wharfedale Technologies Inc.(WFT Cloud), the first certified SAP Cloud Services Partner, recently accredited by SAP Insider as the preferred Private Cloud Provider for moving landscapes to cloud. WFT Cloud continues to expand their footprint across the globe to help SAP customers move to Cloud. WFT Cloud is the proud sponsor of SAP Virtualization and Cloud Week 2012 (sapvweek).
WFT Cloud a leading professional IT services consulting firm specializing in cloud infrastructure integration, has successfully grown its current SAP Roadmap to Cloud portfolio of services to include customers in Canada, Mexico and Europe.
WFT Cloud is an SAP Certified Provider of Cloud Services such as: road mapping, design, implementation, virtualization, and management for private, public and hybrid cloud solutions. SAP Insider and SAP AG accredited WFT Cloud as the leading Private Cloud provider to their customers.
WFT Cloud Solutions are currently being utilized by customers over 82 countries. The list of global customers continues to grow daily as companies wish to further leverage the strength of WFT Cloud as their SAP to Cloud solution. Customers have chosen WFT Cloud to effectively reduce hardware/software TCO and positively improve scalability. WFT Clouds expansion of specialized services will assist customers who have decided to consolidate as much data center hardware as possible. With the intention of keeping all of their non-production SAP landscapes (including development, Test, training and sandbox) within the highly secure WFT Cloud.
WFT Cloud Solutions provide an on-demand, virtualized infrastructure which delivers reliable availability and built-in resiliency for all SAP landscapes. WFTCloud customers cite the ease and greatly reduced time to deploy – along with lowered TCO – as a specific examples for migrating their SAP Landscape(s) to WFT Cloud, says CEO Ganesh Radhakrishnan.
Additional benefits to WFT Cloud are represented by the rapid provisioning of SAP Systems and an expert SAP Basis support. The WFT Cloud solution makes SAP landscape refreshes more seamless and efficient. WFT Cloud is a true extension to your data center operations.

With customers representing a multitude of industries, WFT Cloud has exceeded the challenges from each customers unique compliance, regulatory and data sensitivity demands. No matter the level of risk and complexity, WFT Cloud has succeeded in strengthening the confidence of each customer by providing the highest level of Cloud reliability, security, compliance, seamlessness and capacity on-demand. In the end, WFT Cloud is most proud of having met and exceeded all performance criteria as defined by our customers. We make our customers SAP run better.
Listed below are customer examples of where WFT Cloud has successfully deployed its innovative SAP to Cloud solutions.