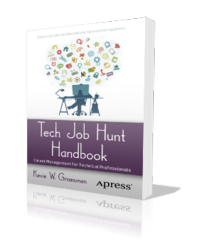 New York, NY (PRWEB) December 13, 2012
December 13, 2012Despite the increased demand for technology experts, theres fierce competition for specialized tech jobs in areas like cloud computing, mobile and social applications, analytics and big data in a tough global economy. Tech-job seekers who have an edge stand a better chance of securing the employment and projects they want.
Tech Job Hunt Handbook: Career Management for Technical Professionals by Kevin W. Grossman is for technology professionals who seek new employment or want to keep employed in todays competitive job climate. The books target audience includes new college graduates, risk-taking innovators and project-savvy developers with decades of experience. Its also for technology professionals ready to retool and re-brand their workplace persona and skills on a continual basis to secure better employment.
Grossman, through his recruiting expertise, demonstrates how to build a comprehensive online professional profile, identify companies of interest and known personnel at those companies, approach interviews with confidence, uncover opportunities at ones current company, and understand the new emerging technology markets that could lead to a career rebirth.

Tech Job Hunt Handbook: Career Management for Technical Professionals is a resource to help professionals use the latest technology including online assessments and interactive video interviews to shine and advance in their careers.
To learn more about Tech Job Hunt Handbook: Career Management for Technical Professionals, visit http://www.apress.com/9781430245483

ISBN: 978-1-4302-4548-3
*250 Pages

*User Level: Beginner to Advanced

*Publication Date: November 21, 2012

*Available eBook Formats: PDF

*Print Book Price: $ 24.99

*eBook Price: $ 17.99
About the Author

Kevin W. Grossman is a human resources professional and B2B software-and-services marketing strategist. A prolific business blogger whose web site (reach-west.com) addresses recruitment and career management topics, Grossman frequently speaks at industry events and moderates recruitment-related webinars.
About Apress Media

Apress Media is a technical and business publisher devoted to meeting the needs of IT professionals, software developers, programmers, and business leaders with more than 1,000 books in print and electronic formats. Apress provides high-quality, no-fluff content that helps serious technology professionals build a comprehensive pathway to career success. Since 2007, Apress has been part of Springer Science+Business Media, one of the world's leading scientific, technical, and medical publishing houses, enabling global distribution of Apress publications.

For more information about the innovative approach Apress takes to publishing, please visit http://www.apress.com.