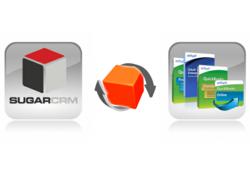 Austin, Texas (PRWEB) February 13, 2013
Epicom Corporation, a SugarCRM consulting, development and integration partner, today announced the release of its Intuit QuickBooks integration for SugarCRM, now available on Intuit App Center. SugarCRM is the flexible Customer Relationship Management (CRM) platform that enables effective customer engagement enterprise-wide. Epicoms seamless integration between SugarCRM and QuickBooks, Intuits accounting software for small businesses, enables organizations to streamline accounting and more efficiently manage customer relationships. Epicoms QuickBooks integration is the first SugarCRM integration to be listed on Intuit App Center.
By leveraging this integration, SugarCRM users can view account payment status, payment terms, days aging, account balance, and other QuickBooks information inside of Sugar. Additional features include the syncing and creation of new Accounts, Products, Quotes and Invoices between both SugarCRM and QuickBooks.
Epicoms QuickBooks integration with SugarCRM provides organizations a 360 degree view between sales and accounting to better manage their customers and deals, said Craig Lewis, VP Channel Development & Services for SugarCRM. The Intuit QuickBooks integration for SugarCRM is a commonly requested feature by our customers and the placement on Intuit App Center gives our customer base a standard integration solution from Epicom that addresses their needs. By making accounting transparent, an organizations sales team can help reduce accounts receivable, eliminate duplicate data entry, and work in sync with the accounting team for smoother collaboration and increased productivity.
The integration is available for download from the Intuit App Center and on Epicoms website. It is compatible with multiple versions of QuickBooks including Pro, Premier, Enterprise and Online as well as all supported versions and licensed editions of SugarCRM and Sugar Community Edition.
We are excited that Epicom has leveraged our platform to create a seamless integration with QuickBooks, said Alex Chriss, director of the Intuit Partner Platform. This is a big benefit to mutual customers who can now keep their data synced between the two applications.
SugarCRM Gold Partner, Epicom, specializes in complex SugarCRM customizations and integrations. Epicom has completed several custom QuickBooks integrations for customers prior to the release of its official product.
We saw an opportunity to take what we knew from previous QuickBooks integration projects and build a product that would offer the Sugar community an affordable, robust and secure integration, said Amanda Anderson, Marketing Manager for Epicom.
Epicoms SugarCRM solutions also include integrations with Google, FedEx, Adobe EchoSign, Twilio Cloud Communications and Pardot Marketing Automation.
By integrating QuickBooks with SugarCRM, we were able to streamline our accounting process by automating the creation of invoices and eliminating double entry into both Sugar and QuickBooks, which saves us thirty man-hours every month, said Eric Stumberg, CEO and Founder of Tengo Internet.
Epicoms QuickBooks integration offers Sugar users a 30-day free trial of the integration and is $ 195 per month for subscribers. The cost is not dependent upon number of Sugar or QuickBooks users and subscribers are not bound to an annual contract.
To start a 30-day free trial or to learn more about Epicoms QuickBooks integration for SugarCRM, visit www2.epicom.com/quickbooks or email info(at)epicom(dot)com.
About Epicom Corporation

Epicom customizes, supports and hosts high-performance web-based Customer Relationship Management systems. Epicom has completed hundreds of successful CRM projects and is one of Sugars leading North American Gold Partners. Our focus is on consulting and executing complex SugarCRM deployments, customizations and integrations. For more information, call 512-481-9000, email info(at)epicom(dot)com, or visit our website at http://www.epicom.com.
About SugarCRM

SugarCRM democratizes customer engagement, empowering every professional who interacts with the customer to excel at their job. SugarCRMs market leading open Customer Relationship Management (CRM) platform delivers the agility, flexibility, and security required to equip each customer facing professional with the information and tools they need to effectively engage with their customer. SugarCRM applications have been downloaded more than 11 million times and currently help over 1.2 million end users across disciplines effectively engage their customers. Over 6,500 organizations have chosen SugarCRM's On-Site and Cloud Computing services over proprietary alternatives. SugarCRM has been recognized for its customer success and product innovation by CRM Magazine, InfoWorld and Customer Interaction Solutions.

For more information, call (408) 454-6900 or 1 87 SUGARCRM toll-free in the US, email contact(at)sugarcrm(dot)com, or visit http://www.sugarcrm.com. You can also connect with SugarCRM on Facebook, Twitter and YouTube.
Related Cloud Computing Press Releases