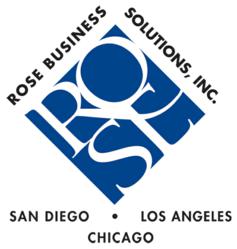 San Diego, CA (PRWEB) June 19, 2012
Rose Business Solutions, the parent company to RoseASP.com and myGPcloud.com, has been named to Bob Scotts Top 100 VARs for 2012 once again. The Top 100 are chosen from organizations specializing in the sale and implementation of Enterprise Resource Planning and accounting software. The three business units focus on different aspects of delivering Microsoft Dynamics to customers. Rose Business Solutions primarily provides new Dynamics ERP on premise system implementations and Dynamics consulting services, RoseASP.com provides Dynamics Hosting services for AX, GP, NAV, SL and CRM, and myGPcloud.com is an on demand online accounting software solution based on Dynamics GP.
We want to congratulate this year's class of Bob Scott's Top 100 VARS, said Bob Scott, executive editor of Bob Scotts Insights. The selection is based on annual revenue generated by each reseller. A special report that includes names of the organizations selected for this years Top 100 list, ranked by revenue, is downloadable at http://www.bobscottsinsights.com.
We are very proud to be on Bob Scotts Top 100 VARs for 2012, commented Linda Rose, President and CEO of Rose Business Solutions. As the Microsoft Dynamics ERP Cloud Partner of the Year for 2012 and the Microsoft Dynamics ERP Cloud Reseller of the Year for 2011, being selected as a top 100 reseller consecutive years in a row, shows our teams commitment to deliver superior customer service and innovative approaches to deliver cloud hosted solutions are key ingredients to our success.
Leading Microsoft Cloud Partner, Rose Business Solutions and subsidiaries, will continue to make strides to make ERP software consumable to satisfy the demand for cloud accounting solutions with Dynamics Hosting Services.
About Bob Scott:
Bob Scott has been informing and entertaining the mid-market financial software community via his email newsletters for 13 years. He has covered this market for 21 years through print and electronic publications, first as technology editor of Accounting Today and then as the Editor of Accounting Technology from 1997 through 2009. He has covered the traditional tax and accounting profession during the same time and has continued to address that market as executive editor of the Progressive Accountant since 2009.
About Rose Business Solutions
Founded in 1991, Rose Business Solutions is a leading business systems and implementation group in Southern California. It has assisted hundreds of small and mid-sized companies globally to implement Microsoft Dynamics applications either in the cloud or on-premise to become more productive, and profitable through the use of technology. With a highly skilled and experienced staff of certified accountants and industry professionals, Rose Business Solutions distinguishes itself from other value-added resellers on its high commitment to customer service. In 2000, it founded RoseASP, a division dedicated to hosting financial, accounting and customer relationship management solutions and related modules for the companys clients and partners. For more information about Rose Business Solutions, visit http://www.rosebizinc.com or call 858-794-9401.
# # #
For additional information:
Jeffrey DeMaria, Rose Business Solutions, 858-794-9401, jeff.demaria(at)rosebizinc(dot)com

Product or service names mentioned herein may be the trademarks of their respective owners
Find More Cloud Hosting Press Releases