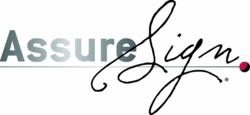 Orlando, FL (PRWEB) October 15, 2012
AssureSign LLC, a leader in electronic signature technology, today announced its participation as a platinum sponsor and exhibitor at CRMUG Summit 2012, the user group conference for Microsoft Dynamics CRM users, which will be held October 16-18, 2012 at the Washington State Convention Center in Seattle, WA.
CRMUG Summit 2012 provides Microsoft Dynamics CRM users a unique and intimate opportunity to dive deep into Microsoft Dynamics CRM, tackle challenges and learn from the experiences of other users who think and work the same way. Attendees will engage in interactive learning sessions, roundtable discussions and valuable networking opportunities at an event hand-crafted exclusively for Microsoft Dynamics CRM users. Attendees can also explore partner solutions by industry experts, including AssureSigns electronic signature software solution for Microsoft Dynamics CRM.
AssureSign provides a unique, best of breed solution to market together with the integration of industry-leading electronic signatures into the industry leading CRM application. This integrated solution enhances business processes by increasing revenue and improving profitability while cutting costs, ensuring that Microsoft Dynamics CRM users are provided with the ability to deploy AssureSign electronic signature solutions rapidly, and integrate seamlessly with their existing workflow.
In todays economy, businesses look for solutions that will increase sales and cut costs. AssureSigns electronic signature software solution offers organizations a proven solution backed by market leaders. The integration between AssureSign and Microsoft Dynamics CRM will enable companies to generate documents and send out for signature with just one click, resulting in shorter revenue cycles and a greatly accelerated sales process. To learn more about this solution, visit the AssureSign booth #439, or attend an AssureSign Partner Showcase session on Wednesday, October 17 at 9:30AM.
AssureSign is pleased to sponsor CRMUG Summit 2012 and demonstrate the latest technology and the simplest integration into customers business process workflows, says David W. Brinkman, president and chief executive officer of AssureSign. Through our solution for Microsoft Dynamics CRM, users can easily create documents for signing electronically with robust tracking, workflow and reporting capabilities, for an improved and accelerated business process.
About AssureSign LLC

AssureSign LLC is a Silver Depth Managed Microsoft Partner and a leading provider of web-based and on-premise electronic signature software, enabling users to obtain both written and verbal authorizations. AssureSign provides the most integrated and feature-rich APIs available and features a unique, patent-pending technology allowing for the execution of any document with forensically identifiable, biometric signatures or typed certified signatures. AssureSign is a highly secure and flexible cloud computing application, and the only e-signature provider with a four year track record of providing customers with 99.99% uptime in a multi-site data center with SSAE 16 (formerly SAS 70) Type II certification extending to all aspects of the enterprise. Using the standards-based DocumentNOW