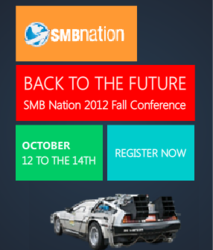 Bainbridge Island, WA (PRWEB) September 14, 2012
Time is running out for SMB channel professionals interested in attending this years 10th annual SMB Nation Fall Conference. The three-day eventrunning from Oct. 12-14 at the Rio in Las Vegaswill focus on how MSPs, VARs, IT consultants, and small business solution providers can survive in a post Microsoft Small Business Server, cloud-oriented future.
A standard full conference pass typically costs $ 999, but early bird registrants receive a $ 200 discountand previous conference alumni registrants receive a full $ 500 early bird discount. IT professionals unable to travel to Las Vegas for the conference can still attend virtually at substantial savings. In addition to the main SMB Nation conference, attendees can enjoy the SMB Nation Pre-Day events and party on October 11 for free.
This years conference is all about getting real and facing the future, says SMB Nation chairman and founder Harry Brelsford. Microsoft has announced the discontinuation of Small Business Server. And almost every other tier one IT vendor is pushing cloud or hybrid. A lot of our folks feel like their business models are collapsing around themand in some cases theyre right. Thats where SMB Nation comes in. Were ready to help attendees face the future, from both a highly technical and a business perspective.
SMB Nation Fall provides in-depth sessions along three different content trackstechnical, business, and community.
The technical (or GeekSpeak) track includes classes on Windows 8, Server 2012, virtualization, Office 365, private and hybrid cloud deployments, BYOD, mobile device management, and a Post-Small Business Server future.
The business track focuses on how small business IT solution providers can transform their businesseseither quickly or over timeto embrace a future filled with public, private, and hybrid cloud computing. Sessions detail sales and marketing strategies, financial management, growing a profitable service desk, and changing business models. SMB Nation is also launching its Pocket MBA for MSPs continuing education program at the conference.
The community track consists of educational sessions primarily conducted by SMB Nation community sponsors, such as Microsoft, Intel, StorageCraft, D&H, Oki, HP, Lenovo, CharTec, and Datto. Sessions address such topics as security in the cloud, business continuity in a hybrid environment, Server 2012 Essentials, managed print services, and automating service delivery.