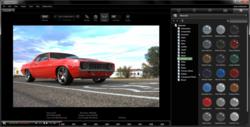 Carsblad, CA (PRWEB) September 16, 2011
Bunkspeed has added 10 new materials, 5 high dynamic images and backplates, and a fully prepared 3D project of a 1969 Camaro, which Autoweek fans just voted as the Best Chevrolet Ever, free for download and unrestricted use. With the release of the Bunkspeed 2012 software product line, users simply register and log in to gain access to the online material and asset library. Today we have added to that library accessible to both the trial and purchased 2012 versions of all Bunkspeed 3D rendering and animation software, as part of regular updates.
This is just the first phase of our cloud based asset library, says Philip Lunn, Bunkspeed CEO. Weve reduced the size of the install download by putting the asset library on the cloud and now were growing the asset library for our customers. Materials, HDR images and even projects can be dragged and dropped directly from the cloud server into the current project. This copies the asset to the users local library. The online library is expected to grow rapidly and provide a constant source of new materials and assets both for our user community, and the rapidly growing 3D community as a whole. The images and 3D model assets can be used in other 3D software.
The cloud based asset library is part of our overall cloud initiative which began last January at the 2011 SolidWorks World Conference. In addition, we have remote cloud based rendering services available, and in the future, cloud based application usage.
Pricing and Availability

Bunkspeed PRO Suite 2012 is available immediately from the Bunkspeed Online Store and priced USD $ 3,495. Free upgrades are available for Bunkspeed SHOT PRO and Bunkspeed MOVE PRO customers on maintenance contract and Windows 7, 64 Bit.
Stand alone versions for Bunkspeed SHOT 2012 and Bunkspeed MOVE 2012 are also available immediately from the Bunkspeed Online Store at promotional pricing of $ 495 and $ 995 respectively and are available for 64 bit Windows 7.
For more information on Bunkspeed and its products, visit http://www.bunkspeed.com or contact sales(at)bunkspeed(dot)com.
About Bunkspeed

Bunkspeed is a leading global Provider of 3D rendering and animation software for the design and creative industry. Bunkspeed is a private company founded in November of 2002 with the philosophy that 3D rendering software should be easy to learn, simple to use and produce stunning photographic results. Headquartered in Carlsbad, California, Bunkspeed's products include Bunkspeed SHOT, a "virtual digital camera" with iray