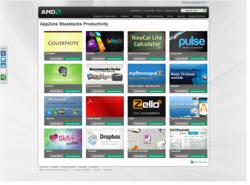 Campbell, CA (PRWEB) September 27, 2012
BlueStacks today announced a collaboration with AMD to launch AMD AppZone, the largest collection of Android apps which can be run on PCs. Powered by BlueStacks, the AMD AppZone Player brings hundreds of thousands of Android apps to the next generation of Windows 8 based slates, laptops, tablets and AiO desktop PCs. AMD AppZone is also available for AMDs massive global installed base of Windows 7 based PCs. The collaboration with BlueStacks with optimizations for AMD GPU and APU technology enables a superior experience through AppZone on AMD powered PCs relative to other app stores like AppUp.
Starting today, consumers can directly access the AMD AppZone through their online website at AMD.com and browse through the featured apps that are free to download. AMD and BlueStacks are also working with leading PC manufacturers to preload AppZone and popular Android apps on new PCs. The apps are available in multiple languages including English, German, Korean, Chinese Simplified and Traditional, French, Italian, Spanish and Portuguese, across all categories like games, social, news, shopping, music, business and education.
AMD and BlueStacks are allowing the emerging Android market to become part of the broader PC ecosystem with the introduction of AMD AppZone, said Manju Hegde, corporate vice president, Heterogeneous Applications and Developer Solutions at AMD. With the new Windows 8 operating system just around the corner, were excited to enable exciting new solutions for our PC customers and end users to experience.
App stores and apps represent a multi-billion dollar opportunity. BlueStacks powered business models are ready to disrupt the PC industry by leveraging the unprecedented growth in the mobile eco-system, said Rosen Sharma, CEO of BlueStacks. By collaborating with AMD, we are able to bring 500,000 apps to Windows 8 ecosystem and the broader installed base of PCs. Thats significantly more apps than any existing PC app store including Intel AppUp or the Windows 8 App Store.
Renowned PC analyst Tim Bajarin added, This is the right move and a winning proposition for BlueStacks, AMD and for the entire PC ecosystem. Everyone is eagerly anticipating Windows 8, but consumers want a broad selection of familiar apps now. AMD and BlueStacks have addressed that in a big way.
Resources