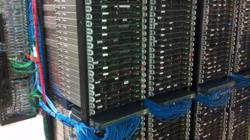 Dallas, Texas (PRWEB) January 31, 2013
From the redesign of OnePortal Control Panel, to the addition of GlobalSign OneClickSSL, 2012 was an exciting and productive year for Limestone Networks, the Dallas-based, on-demand dedicated server provider. Partnerships were secured with leading industry solutions providers such as Olark, UserVoice, AdRoll and DesignPax, improvements were made to their Account Specialists department to better facilitate client interaction and service, new selections of high-performance processors were included to their server lineup such as the Dual Intel Xeons E5-2620 and E5-2650, advanced routing technology was employed at the rack level in preparation for IPV6, and further enhancements were made to company operations for which they are pleased.
In addition to internal developments, Limestone Networks also made considerable strides regarding public outreach in 2012. Sales and marketing representatives promoted company services at several domestic and international conferences last year such as HostingCon, ResellerClub Hosting Summit, SXSW, and also the Parallels Summit where Limestone Networks won New Partner of the Year Award. Social networks platforms like Facebook and Twitter were leveraged to generate greater company exposure as well as create new opportunities to engage with clients and other industry representatives. LSN executives believe that last year will be remembered as a turning point for Limestone Networks: From promising youthful challenger, to demonstrably capable & established dedicated server provider.
Regarding support metrics for 2012, Kris Anderson, Director of Support said, Ninety percent of our provisions were completed in less than three hours in 2012, and ninety-five percent of support tickets were responded to within ten minutes. With the recent increase in staffing, we are anticipating reductions in these numbers which are already among the best in the industry.
Despite the growth and improvements of 2012, Limestone Networks has no intentions of resting on past success. 2013 looks to be equally promising and their executive team has listed the following objectives as having prioity for the coming year: