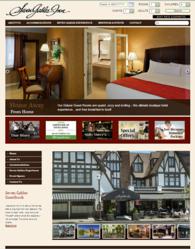 (PRWEB) August 14, 2012
Independent hotel operators are known for creative entrepreneurship, operating standards, and marketing practices. Their hotels are free-standing businesses without corporate mandates or support, and their success is based on making sound decisions, especially when selecting technology partners. Maestro empowers hundreds of high-touch independent operators and hotel groups to grow their business and stay ahead of the competition with innovative technology backed by the industrys most reputable Diamond Plus service.
Maestro is by far the most comprehensive, customizable system we use

When independent operators want the most comprehensive, reliable, property management system (PMS) suite, they turn to NORTHWIND. Lodging Hospitality Management (LHM) uses flag-mandated PMSes for its Hilton, IHG, and Marriott properties, but it relies on NORTHWINDs Maestro System for its independents. A 32-room boutique requires a different type of system from a 600-room full-service property. Customization and reliability are essential factors when choosing a system for an independent, said Todd Hotaling, LHMs Corporate Director of Revenue Management. A PMS needs to provide customizable features that support an independents unique offering, whether it is specific guest preferences, room types, or payment processing. Greater system flexibility enables us to combine best practices from multiple brands to maximize revenue and service at our independents. LHM operates many brands and systems and Maestro is by far the most customizable system.
We trust NORTHWIND

When Benchmark Hospitality International launched its lifestyle brand, Personal Luxury Resorts & Hotels, it turned to NORTHWIND. We use Maestro in the cloud at 70% of our properties. All are full-service luxury boutique properties, said Darrin Pinkham, Benchmark Vice President of Information Technology. Maestro made it possible to host all our properties in Benchmarks own virtualized Private Cloud data center platform. This saves our owners money by not having to purchase premised-based servers and provides us with greater network/data security and PCI compliance. We trust NORTHWIND.
Warren Dehan, President of NORTHWIND-Maestro PMS, said, The success of our clients is the motivating force behind every action at NORTHWIND. We are in partnership with our users to provide the best technology and most effective support services possible to make their operations more profitable and efficient.
Maestro Guest Loyalty Developed for Independent Hotels, Resorts and Multi-Property Groups

Maestro is a fully-integrated PMS that utilizes a single-image database as the foundation of its innovative new Guest Loyalty Module for independents. The module gives operators robust loyalty program benefits and functionality to compete with high-profile programs that were only available to chains. It automates the complex process of points tracking and redemption to minimize errors and save operators money. The system lets independents create loyalty programs with perks that reflect their unique brand and services. It is mobile and social media optimized offering an online site for guests to sign-up, manage profiles, and track and redeem reward points that strengthen their relationship with the hotel and increases profitability with direct bookings for lower cost.
Maestro empowers high-touch independents to grow their business with innovative technology

Multi-Property Solutions Maestro empowers hotel groups with enterprise-wide system solutions that deliver true centralized management controls on a single database. This enables closer property coordination, cross-property booking and upsell capabilities, and consistent guest recognition at all touch points for all properties.
Online, Social, and Mobile Maestro's Web Connection suite increases profitability and reduces costly third-party dependency with direct bookings for guests, groups, owners, travel agents and corporate business. The ResWave real-time, integrated booking engine enables guests and groups to book rooms, suites, activities, amenities, spa and dining online, from mobile devices, Facebook, landing pages, and email campaigns.
Maestro Cloud Hosted Solution – Independent operators are turning to hosted systems to reduce staff, trim hardware investment, simplify PCI-compliant cardholder security, and ensure 24/7 access to property data. Maestro delivers a robust, stable hosted solution that increases profitability and productivity.
At IHM&RS in New York November 1013, visit NORTHWIND-Maestro at booth # 2850
For a demo of the Maestro Property Management Suite featuring the ResWave Booking Engine, please contact NORTHWIND at 1.888.667.8488 or email info(at)maestropms(dot)com.
Download a detailed brochure on Maestro: Beyond PMS for Business Success here
Exchange ideas and connect with NORTHWIND on:

Twitter, Facebook, and LinkedIn
Maestro Property Management Solution

Enhance guest service, improve efficiency and maximize online and offline revenue with Maestro PMS, the industry's most robust and flexible resort software and boutique hotel software solution empowering leading full-service hotels, luxury resorts, multi-property groups, conference centers, condominiums and timeshare properties. Solutions include Front Office (PMS), Accounts Receivable, Analytics and Business Intelligence, Sales and Catering, Multi-Property Management, Condo and Timeshare Owner Management, Spa and Activities, Web Booking Engine, Real-Time Yield Management, Dynamic Packaging Golf, CRM, Guest Experience Measurement, CRO, GDS Two-Way XML Connectivity or Integration, Membership, Work Orders, Fine Dining and Retail POS, Online Table Reservations with Web Booking, Concierge and Guest Experience Measurement. The Maestro PMS is database independent (ODBC Compliant) and is deployed via Windows, UNIX, Linux, Terminal Services, hosted and Web platforms.
About NORTHWIND Maestro PMS

NORTHWIND is recognized in the hospitality industry for its standard setting Diamond Plus Service and robust integrated Maestro resort hotel software technology. With over 30 years experience dedicated to developing technology solutions for the hospitality industry, NORTHWIND is a partner who understands you need a scalable, flexible PMS that works the way you do. Maestro applications are engineered for operators who need to manage their enterprise in a real-time environment for the utmost operational efficiency, productivity, control and profitability.
Related Cloud Hosting Press Releases