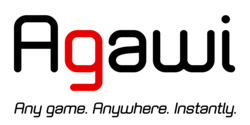 Menlo Park, Calif. (PRWEB) August 27, 2012
Today Agawi, formerly iSwifter, is announcing version 2.0 of its cloud gaming platform to stream a diverse array of gaming content across all post-PC era devices. Agawi aims to become the largest cloud gaming platform, with the mission of any game, anywhere, instantly inspiring the new company name.
Unlike OnLive, Agawi started in the post-PC cloud computing era, and thus has been built on a different business model, said Agawis co-founder and executive chairman, Peter Relan. With the power of version 2.0 of Agawi, well be enabling the delivery of more games to more devices. We believe we can reach 100 million devices and truly make cloud gaming a universal phenomenon.
Whats new in version 2.0?
-New clients supported beyond iPads: PCs, Macs, Android tablets, Windows 8 tablets, and smart TVs.

-New game genres beyond the social games currently supported in the iSwifter app, to include AAA mid-core and hardcore titles at industry-leading speed and quality.

-New cloud service architecture to support the publisher's choice of ANY cloud service provider.
"As a strategic cloud partner, Blue Box has been working with Agawi to provide scalable cloud infrastructure for streaming social games since its inception," said Jesse Proudman, CEO of Blue Box Group. "With the launch of version 2.0 of Agawi, we are excited to build and deliver an industry-leading GPU gaming cloud. This project resonates with our vision to deliver infrastructure supporting transformational technologies. We love being part of the next big thing."
As console-quality games increasingly try to make the jump to modern platforms, Agawis technology offers sophistication and speed for instant access to games and freedom from console hardware. The companys seamless cloud streaming technology eliminates long download times for graphics-heavy games and enables high-speed gameplay on all popular entertainment platforms.
Games publishers can partner with Agawi's B2B platform to make their titles accessible to a huge audience of gamers. Since inception, the platform has streamed 12,000 titles to three million gamers across 150 countries worldwide.
With a team of ex-Netflix and Panasonic engineers and two Ph.Ds, Agawi has created a platform that aims to bring any form of game content to any screen.
Agawi will be giving a keynote presentation at Cloud Gaming USA in San Francisco on September 11.
About Agawi:
Agawi (formerly iSwifter) is the worlds first cloud gaming platform focused on the post-PC era of tablets, mobile devices and connected TVs, using an open cloud architecture. Offering partners the ability to deliver compelling game experiences in any genre, from social to hardcore, to users on any device, including tablets, TVs, smartphones and PCs, Agawi stands for any game, anywhere, instantly.
Combining the latest innovations in open cloud architectures, with its own patent pending state-of-the-art interactive streaming technology, Agawi works with leading game publishers, online retailers, OEMs, and network operators to stream console-quality PC, MMO, casual and social games to users instantly.
Based in Menlo Park, California, Agawi was founded by Silicon Valley entrepreneurs and spun out of YouWeb Incubator in 2010.
To learn more about Agawi, visit http://www.agawi.io/
About Blue Box Group:
Blue Box is a premier open-source hosting provider offering highly customized infrastructure solutions paired with top-tier support. For more information on Blue Box, visit http://www.bluebox.net/