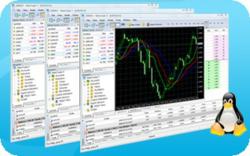 Ashburn, VA (PRWEB) August 18, 2011
SkyDesks, Incorporated announces a patent-pending Forex VPS- a Virtual Machine (VM) for trading the global currency markets. SkyDesks' VM is designed to only run the Metatrader 4 (MT4) trading application- without a Windows desktop. MT4 and premium Expert Advisors (EAs) are automatically installed and configured within minutes from the SkyDesks website. The SkyDesks VM, which lives on a cloud server, is the easiest-to-use, and most reliable Forex VPS on the planet.
Unlike the equities markets, most Forex trading today is done using software robots, known as Expert Advisors (EAs). These EAs can be purchased or rented monthly. They provide fully-automatic trading. SkyDesks offers, in addition to the basic service, premium EAs for monthly subscription- with more to follow. These EAs are automatically installed and updated in the subscribers account. SkyDesks currently offers two premium EAs for monthly subscription: Evolution EV (http://www.jtatoday.com), and FxProMax (http://www.fxpromax.com).
The SkyDesks VM, is hosted on a cloud server that provides reliable and low-cost connectivity over the internet between a Forex broker and the investor. Because of ease-of-use, reliability, and global availability the always-on SkyDesks VM product, unlike its Windows counterparts, is expected to appeal to a wider-range of investors and to expand the Forex trading market to a generation of investors who have never traded currency before. Emphasis is placed on ease-of-use for first-time currency traders.
Some of the innovative features are:

MT4 only- No Windows desktop, viruses, spyware, or malware.
VM monitoring system 24X7 with automatic reboot.
Patent-Pending fault-resistant design – 99.99% uptime. Your VM is always on.
Automated subscriber account creation – in minutes – Credit Cards and PayPal accepted.
Automated MT4 installation – broker selection chosen from a drop-down menu.
Automated premium EA installation, updates, and support- including updated set-files.
Web-based file uploads of EAs, indicators, scripts, and set-files.
Low monthly subscription costs starting at $ 19.95 per month. Discount for multiple accounts.
Free, no-obligation, no-risk, 14-day trial for basic or premium services
###
Find More Cloud Servers Press Releases